"…And  what does the Lord require of you but to do justice, and to love kindness, and to walk humbly with your God."       Micah 6:8
"Teacher, which commandment in the law is the greatest?  He said to him, 'You shall love the Lord your God with all your heart, and with all your soul, and with all your mind. This is the greatest and first commandment. And the second is like it: 'You shall love your neighbor as yourself.' On these two commandments hang all the law and the prophets."'  Matthew 22:36-40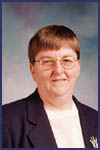 There are many parts of scripture that highlight the role of the church and to us as members of the Body of Christ to be advocates as we strive to live together as God intends.  For me the two scripture passages quoted above have particularly shaped my thoughts and work as an advocate.
In this quote from Matthew, the love of God and the love of neighbor are firmly welded together.  They are equal and inseparable.  Because and when we love God, we must love our neighbors.  To love our neighbors is to imitate God by taking their needs seriously.  Being the "church in society" provides a means for us to carry out our mandate to love our neighbor.  Addressing social issues involves three areas of activity:  service, study and advocacy.  Direct service and study are very important but their companion, advocacy is also very important because advocacy helps to address the causes of social injustice through changes in public policy.
Your involvement in the advocacy of Lutheran Advocacy Ministry-NM is crucial.
Join our Advocacy Network using the link on our home page

Attend the annual Bishop's Luncheon & Issues Briefing and our fall advocacy conference to learn more about our Advocacy Agenda
Invite a speaker from Lutheran Advocacy Ministry-NM to talk to a group or class
Be willing to come to Santa Fe during a legislative session to meet with legislators
Respond to action alerts during legislative sessions by calling, e-mailing or writing to legislators
Talking with your legislators about our Advocacy Agenda when they are at home in their districts
Keep the ministry of Lutheran Advocacy Ministry-NM in your prayers